Cardinal Ratzinger and the Rise of the Black Internationale - 8
The Glory of the Olive – "Gloria Olivae"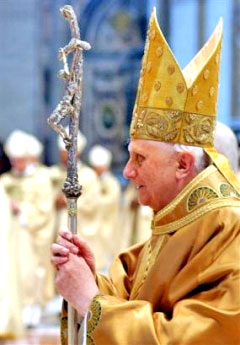 Pope Benedict XVI wearing golden vestments clutching his pastoral staff inside St. Peter's Basilica at the Vatican, Sunday, April 24, 2005 prior to his installment Mass in St. Peter's Square. (AP Photo/Osservatore Romano)
Cardinal Ratzinger elevated to Pope Benedict XVI
NEWS BRIEF: "German cardinal elected new pope: Ratzinger to be known as Benedict XVI" - April 20, 2005

"VATICAN CITY (CNN) – (April 19, 2005) - Wearing traditional papal robes and a large smile, Joseph Ratzinger of Germany appeared Tuesday on a Vatican balcony as the 265th pontiff, Benedict XVI, as tens of thousands gathered in St. Peter's Square to cheer him ... Ratzinger, who turned 78 on Saturday, was John Paul II's chief theological adviser for 20 years ... On Tuesday, Cardinal Jorge Arturo Medina Estevez announced Benedict XVI's election in the traditional Latin, but he prefaced it by saying the words 'brothers and sisters' in several languages, an introduction that is likely a bow to the universality of the Roman Catholic Church and its 1.1 billion members..."

"White smoke rising from the Sistine Chapel chimney gave the first indication that the cardinals had chosen a pope. The crowd clapped and waved flags as the smoke billowed over Vatican City about 5:50 p.m. Suspense built for the next 10 minutes as pilgrims waited for the ringing of bells -- at which point the onlookers let out a roar of jubilation ... The conclave of 115 cardinals had voted three times previously -- once Monday night and twice Tuesday morning -- before selecting the new pope."
Now, let us quickly review the occultic factors presented in this news story.