Cardinal Ratzinger and the Rise of the Black Internationale - 12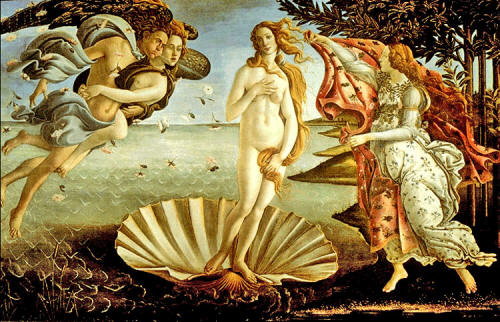 The Birth of Venus (the goddess of love and beauty) by Sandro Botticelli (!445-1510) painted about 1485

In the coronation mass of the new pope, the seashell from which the ancient occultic traditions claim that Venus or Aphrodite was born was heralded all over the front the golden cape.

According to the occultic scholar, Dr. Cathy Burns in her book, "Masonic And Occult Symbols Illustrated", quotes New Age author David Spangler,
"Lucifer prepares man in all ways for the experience of Christhood and the Christ prepares man for the experience of God. But the light that reveals to us the presence of the Christ comes from Lucifer . He is the light giver. He is aptly named the Morning Star because it is his light that heralds for man the dawn of a greater consciousness. He is present when that dawn is realized ... Christ is the same force as Lucifer, but moving in seemingly the opposite direction'."

(Dr. Burns, quoting David Spangler, "Finding Heaven On Earth", New Age Journal, January/February 1988, Vol. 4, Issue 1, reprinted in "Masonic And Occult Symbols Illustrated", p. 188)
In the age of deception, the symbolism can give ideas of distortion and illusion. Dr. Burns does come to a conclusion when she writes,
"Of course, quotes like this aren't really surprising since Masons themselves ... tell us that Lucifer (or Venus) is the Light-bearer and the Morning Star. Blavatsky writes about the Druids, Magi, Zoroastrians, greeting the Morning Star -- the beautiful Venus-Lucifer."